You can Search from anywhere within the Adstream Platform. To start searching simply start typing in the text box in the top right of the screen. 
By default the search is set to Global which means it will look for file titles, users, projects, assets or any piece of metadata with your search term somewhere within it.  To help make the results more useful you can limit the search to specific metadata.
To do this:
Click the drop down arrow by the word Global
Select between Advertiser, Clock # or Title.
If the metadata on your account is configured differently it will be reflected in this dropdown list.  
Now when you search you will still see results from across the different modules of your account but only if they match the metadata field you selected.
The results ar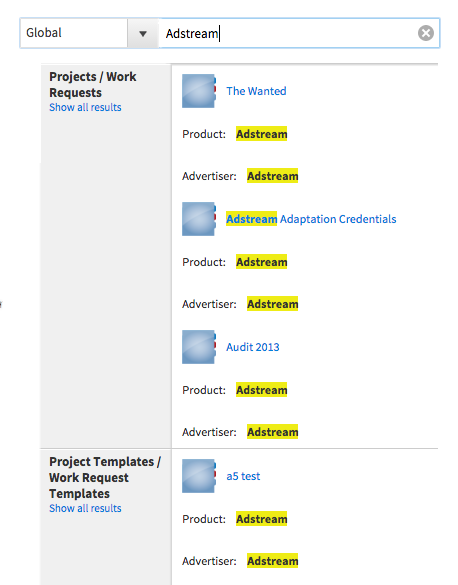 e split into categories and display any content with that metadata including projects and assets, below each search result it shows you where that term was found, for example the top result had the search term in three places first in the title and then also in the metadata fields Brand and Client. Clicking on one of the results will take you directly to the view of that file type.
Clicking show all results will take you to a page with only files that matched the search results shown for that section; for example showing all results for assets will show all the assets with that search term but not files from projects or presentations. You can then work with these files.