Welcome to the Adstream Help Centre. The right place to find all necessary information to get the most out of the Adstream Platform. Apart from hosting your current tickets and recent cases, the Help Centre has many other features and benefits to explore.
It will allow you to browse through a wide collection of articles, covering anything from frequently asked questions and overviews of available Platform modules, to videos and step-by-step guides on how to use each area and make the most of the functionalities.
As a new user starting at the Help Centre landing page, you are only a few simple steps away from all the information we have gathered for you. The Getting Started category, as well as some other overviews, are even available without logging in, all easily accessible by clicking on one of the categories and choosing the articles you would like to read.
Searching the Help Centre
If you already know exactly what you are looking for, the fastest way is to make use of the
search function
to find the relevant article straight away. For this enter a search term into the field on top of the
Help Centre
landing page and click
Enter
. You will then see a list of articles related to your keyword as well as the location of each article.
The categorisation of the Adstream Help Centre and Knowledge Base is as easy as it can get. The first four sections will cover:
Frequently asked questions – Covering everything from the Recommended Screen Resolution, over Supported Asset Types, up to our Bandwidth requirements.
What's New – This section is being updated on a regular basis and keeps you on top of any new platform releases and system changes and updates; including the version and platform module where these apply.
Videos – Is an overview of all available video tutorials, enabling you to stream them all right here.
Following these sections, you will find all the different platform modules and areas divided into categories; for example the Library Guide. Simply click on any category to find relevant sections and articles about your topic of choice.
Don't forget to follow us on LinkedIn, Facebook or Twitter to stay updated about anything new from Adstream.
Login, Requests and Tickets
Now that you have an overview of the Help Centre and are able to find all information, let's take a closer look at login in, submitting requests and managing your tickets.
In the upper right hand corner, you will find two buttons, Submit A Request & Sign In. Both will redirect you to the Platform login page, were you will have to enter you A5 login details. You will then be redirected to the Help Centre.
Once signed in, you will have access to further categories. For example, the Admin Guide.
Now that you are logged in you will be able to submit a request and access the My Activities section.
Submit a Request
To submit a request, click on the button on the top right of the page and filling in the corresponding form by following these steps:
Give your request a subject related to the issue.
Provide a brief description with clear information about the issue/question to enable the team to quickly answer your question.
Prioritise your request based on how much the issue affects your workflow. Try using these suggestions as a guideline:
| | |
| --- | --- |
| Low | General question or minor impact issue |
| Normal | Some impact on current work |
| High | Significant delays to critical tasks |
| Urgent | Complete work stoppage |
One of our support agents will reply to your case and you will be notified via email. Simply respond to the email to reply back to the agent's comment.If you need to, you can attach additional documents such as screenshots of the page where the issue occurs
When entering a subject, we will suggest articles that might solve your issue to save you valuable time.
My Activities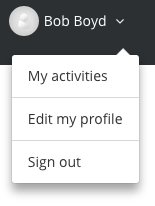 Clicking on your name in the upper right corner will extend a dropdown showing
My Activities
. Click here to find all your tickets in one place.
The tab will give you an overview of your:
Requests
Contributions to the Community
Articles that you are following
You can look up and track your own request or the ones you are CC'd on. Filter by request/subject and status or simply go through the list of tickets shown. Click on any request, regardless of the status, to open it and go through the whole conversation. Use the box on the bottom of the page to comment on tickets, add a file where applicable and click submit.

From the same location it is also possible to edit your profile and provide information about yourself, personalising your appearance within the Help Centre and Adstream Community.
To go back to the Help Centre Landing page, click on the Adstream Logo on top of the page.
Last, you can find all your recent activities on the bottom of the landing page, under Recent Activities, providing short cuts to the sections you have visited most recently.
The Help Centre is are great places to visit and spend sometime on. Learn more about the Adstream Platform and explore the Knowledge Base. You can even contribute yourself by leaving feedback or send in suggestions via email to knowledgebase@adstream.com