What's new in 2020?
You can now set Favourite Filters, which will be pinned at the top of the updated filter panel. If you are part of multiple Business Units, you can set a different set of favourite filters for each one.
Business Unit filtering has been introduced, so if you are part of multiple BUs you can now easily switch between them, using the BU filter.
Media type filtering is easier than ever with an updated look and a removal of the dependence of media type filters and the media type itself. Now, you don't have to set a media filter, such as Video or Audio, before you can set a media type filter, such as Clock Number or First Air Date.
Dynamic date filtering has been introduced so now you can filter by date fields relative to the current date. For example, you could set a filter to see all assets with Usage Rights expiring in the next week, or see all assets with an Air Date in the last calendar month.
Usage Rights filtering has moved into the filter panel with improved focus.
The Filter Banner has been introduced, allowing you to easily see and edit any filters currently applied.
List View
The list view has been updated to show a more compact view, allowing you to see more assets and more information at once.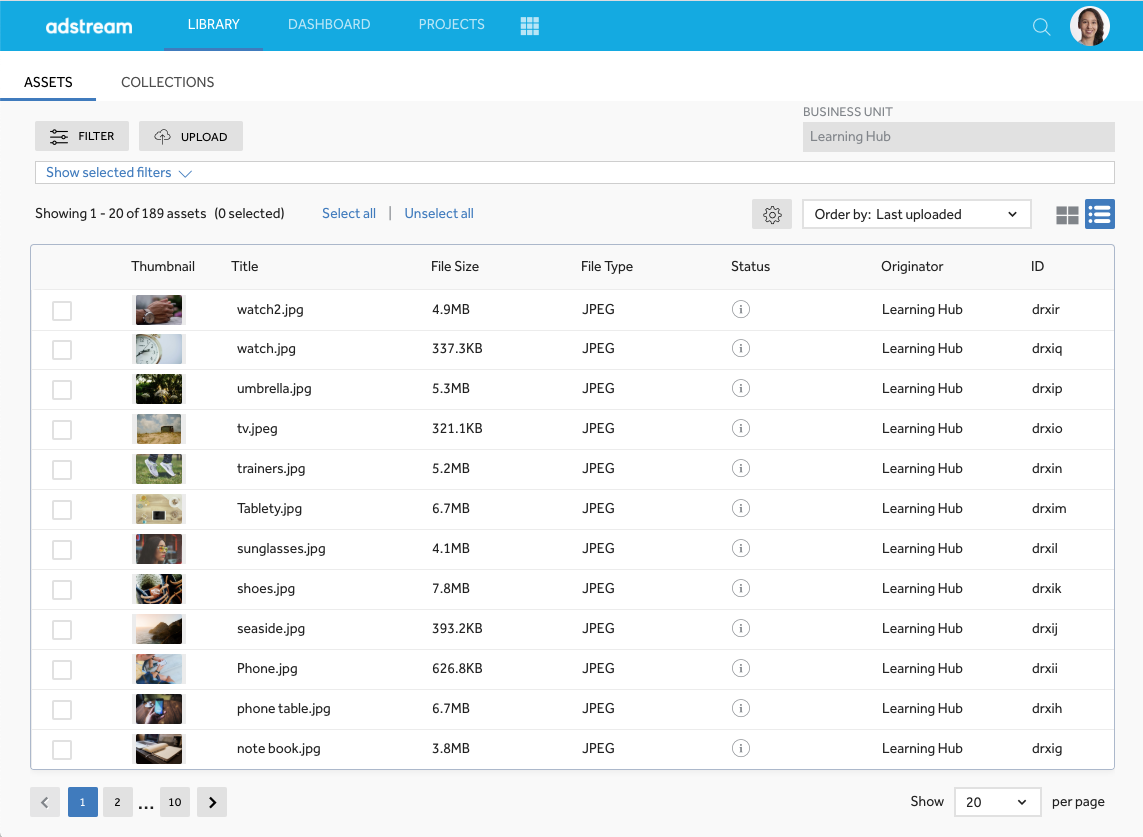 When in single asset view, there is now an enhanced carousel view below the assets, showing you all neighbouring assets.
For PDFs, there are new controls allowing you to zoom in and out of your assets, easily move between pages and view the PDF in your browser's native PDF viewer.
What's new in 2019?
Look & Feel
Introducing the New Library, a modern design & cleaner UI.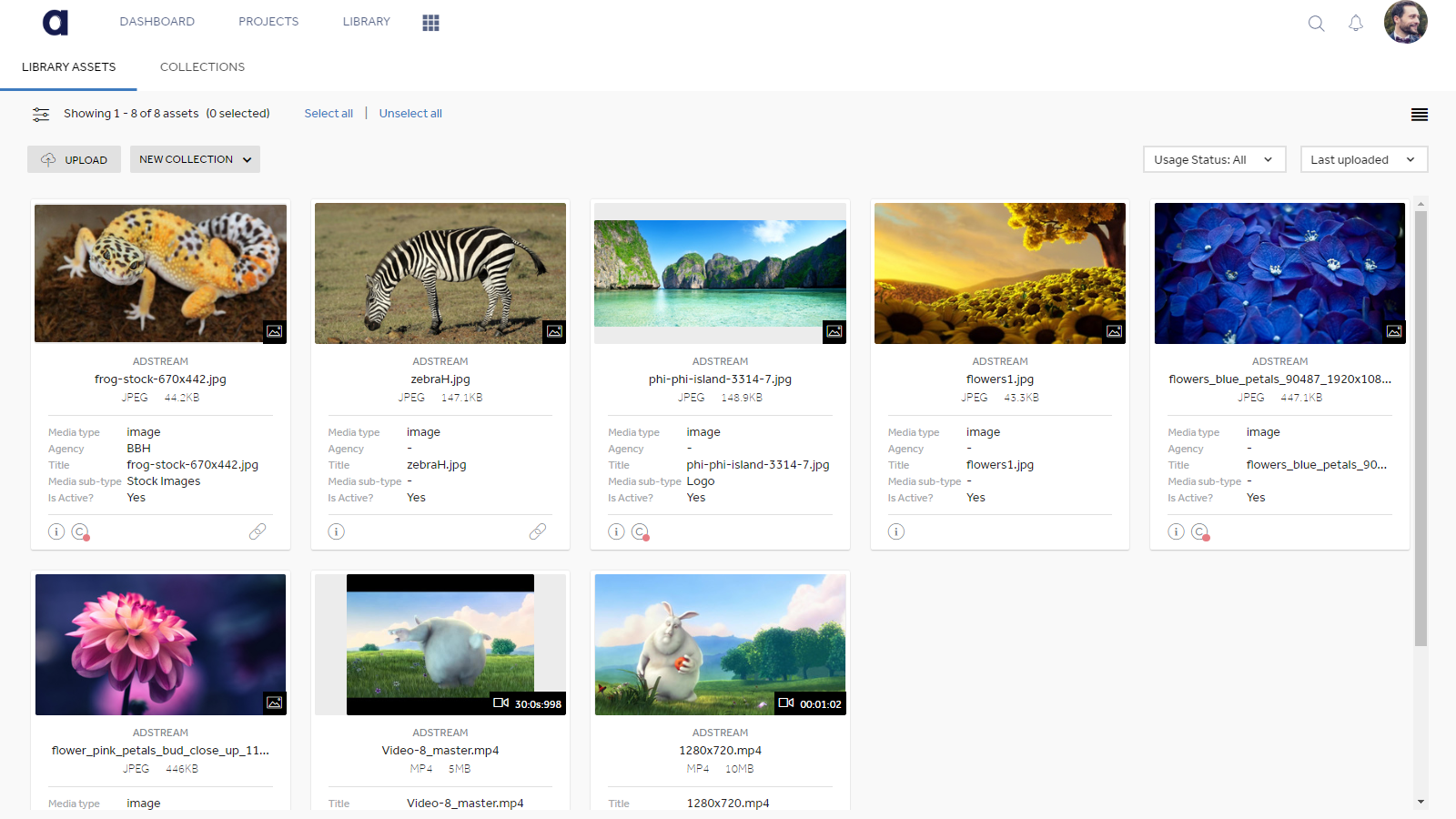 Focused User Interface Design
Less links & actions which now appear with user interactions.
As advertising campaigns get bigger, more content is created and stored in the Library. So to improve the experience of viewing and navigating that content, we've completely redesigned the look and feel of the Library making it more intuitive and easier than before.
Usage rights receives a minor update
Introducing a new Usage status sort filter to the library home allowing you to quickly see inactive/pending rights.
A new home for presentations, the service can now be set up as a standalone service.
With our Walk.me integration users can stay in the library and find quick answers to the burning questions. Look out for Walk.me help tool tips to guide users through the new UI.
We've also completely updated our Help, with new, relevant articles, and videos available right at your fingertips in the contextual help menu on the right-hand side.
Just click the blue help button and you'll have access to all the help you need and if you ever have trouble finding the answer to your question, you can always contact us right at the bottom of the menu.

Related assets feature receives a refresh
Select more than one asset from the Library, and then the more options menu and click on the "Create relationship" option.
From the Library or from collections more options menu

See relationships in the Asset preview.

Frame-grabber grows up
Using Frame-grabber has a new look and feel. A refined UI in line with the new design of Library, able to capture, download and interact with frames easier and faster.
Improved frame skip accuracy and more options to download one or many captured frames

Collections
A dedicated area to see your collections, set a default home collection and see new logos appear as the BU collection icon.
Collections now have their very own tab, allowing you to view them all in one place and easily navigate in and out of various sub-collections.
New look and feel for Global Search, see more of your results in the new home for search. Search Library, Projects & Presentations and Filter any search to find your files including new usage rights Sort filtering.
Filtering appears on the left hand side of the main Library view you'll notice an expanded set of filter options to help you find what you're looking for. You can also search here using keywords.
From these filters you can quickly and easily create new Collections.
Desktop, Tablet and Mobile
The Library is optimised for desktop and tablet. These are our recommended options for using the Adstream Library.
The New Library is responsive to mobile but has some quirks. You can search and re-despatch assets using mobile, but it is not optimised to easily preview assets and videos.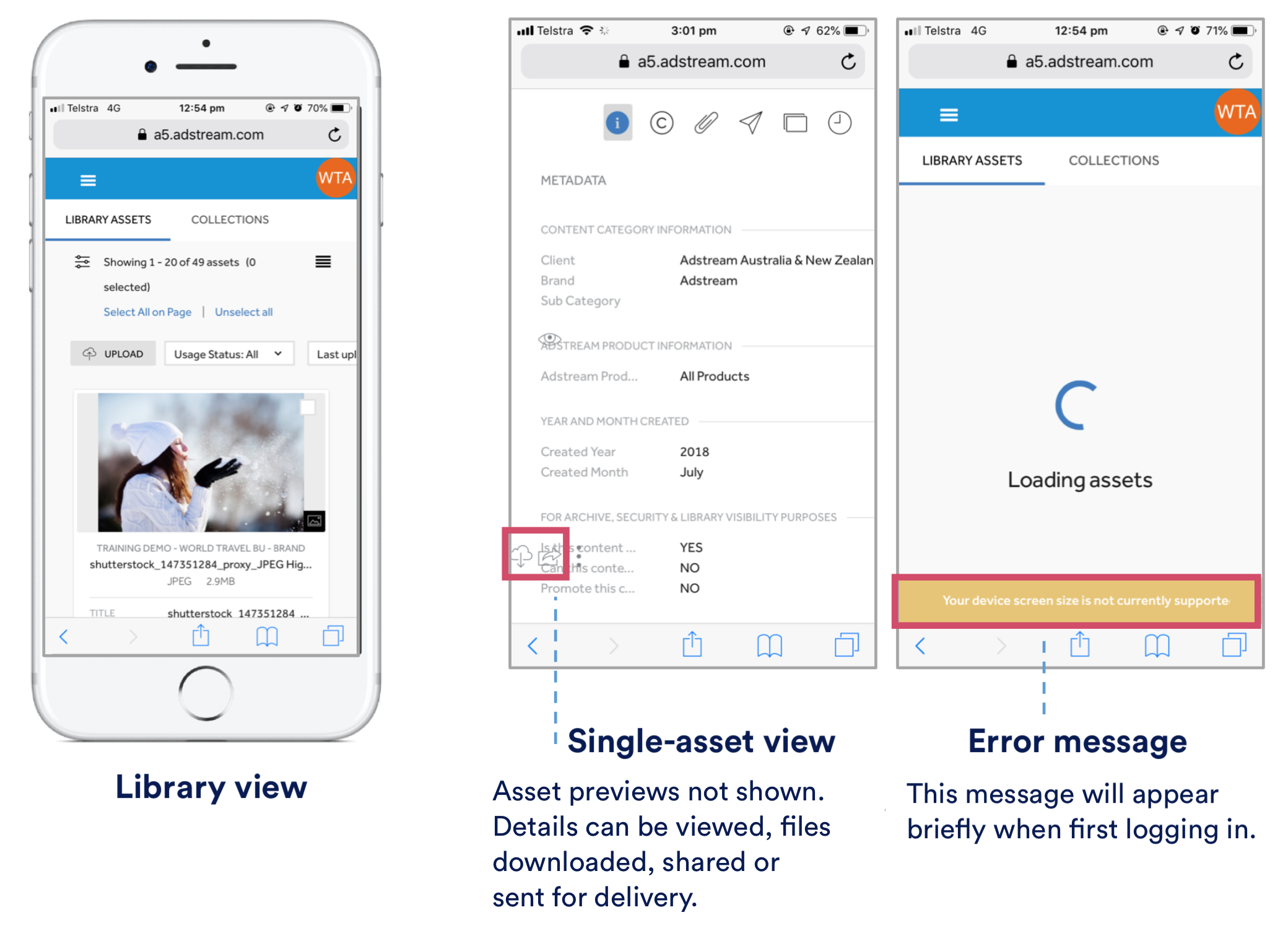 More of what you're used to
| | |
| --- | --- |
| New Library | |
| Select | When an image is selected, you can edit, share, add usage rights, copy, change media type or delete. |
| QC | Note when an asset is a QC'd master asset. |
| Usage Rights | Indicates an asset with usage rights available for use, rights that are expired or not yet started. |
| List View | View the library assets in list mode. |
| Grid View | View the library assets in grid mode. |
| Asset Details | Click the grid view settings asset information you wish to appear in view. |
| Filtering | Filter assets smarter and faster. Filtering{nav} |
| | On the left hand side of the main Library view you'll notice an expanded set of filtering{{Filters}} options to help you find what you're looking for. You can also search here using keywords. |
| | |
| --- | --- |
| | |
| Navigate | View the collection tree. |
| Filters | Open the filter panel and redefine the assets in your collections |
| Info | View basic details of the collection and access more options such as renaming or deleting the collection. |
Single Asset View

We've also totally updated the way you view individual files, presenting a split view with all the essential information on the right and a clean, uncluttered view of the file on the left.

Info

View and edit the essential metadata for the asset with the option to edit some of that information through the icon.

Usage Rights

View and manage all usage rights associated with an asset. See more for adding usage rights.

Attachments

View and manage asset attachments.

Destinations

View any deliveries the asset has been involved with

Relationships

View and manage any relationships between this asset and other assets or projects.

Frame-grabber

View/download existing frames and capture new frames from a video file.

Activities

View all activities for the asset. You can type activity type, email address or username into the fields to search.

Download

Download the asset, choosing from master or proxy file.

Sharing

Securely share the asset with another user or create a public sharing link.

More Menu

See more options: copy asset to another project, collection or presentation. Change the media type, send to delivery or delete the asset.

See more in our user guides